Selling Your Home?
Investing in Your Landscape Can Put Green in Your Wallet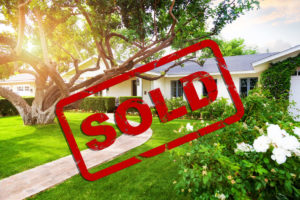 April brings one of the hottest months for Gulf Coast real estate. Families on spring break, folks seeing family for Easter, or those in town for festivals and events are charmed and decide they'd like to join our community. If you're prepping your home to put on the market, realtors will tell you an investment in landscaping is one of the smartest first steps. In a 2021 HomeLight survey, 
94% of top agents
 said that great curb appeal equals money in your bank account at closing. And don't assume you have to invest a fortune. Consistent lawn care – mowing, fertilizer, and weed control – will recover more than 250% of the cost of upkeep at the time of sale. We all can relate to curb appeal – sometimes we simply fall in love without quite knowing why! A first look is powerful. The National Association of Realtors finds bottom line results when it comes to a buyer's perception.
Landscaping Offers Tangible Results
The more attention put into landscape, the more value a buyer will attach to your home, from roughly 5% to 12% more, depending on where you live. Researchers found that plant size and "design sophistication" (not just hedges or flower beds along the front and sides of the house but also perhaps shade trees and islands of plants, or a focal point in the yard) most affected value.
Get Ready for Photography
Realtors will plan a photo session before listing your house.  How to make your yard ready for its closeup?
Power wash. Clean windows, thresholds and patios of cobwebs, leaves, or mildew if that's an issue.
Touch up your deck.  A couple of coats of fresh stain will make it pop.
Refresh your patio. Does furniture need a touchup? Fresh pillows or cushions, bright attractive container plants and other accents will enhance your outdoor space.
Consider a new walkway. The NALP finds walkways and patios with contemporary, geometric patterns are one of the biggest trends for 2021. Consider installing or upgrading your walkway with pavers – an expense starting at about $1700 depending on materials and size.  Another option? Paint a pattern on the existing patio or walkway using concrete stain.  Several vendors in our area specialize in these creative and great-looking techniques.
Mulch and freshen beds. We recommend long-leaf pine straw for residential yards.
Solve Some Longtime Problems
Is your house in a busy area where buyers might wonder about road noise? Landscaping is a perfect way to reduce sound if you're near a high-traffic road or on the corner lot of a neighborhood. You can create an oasis without costing a fortune.
Consider strategic garden containers. Plants and lawns can reduce noise levels by up to 30%, according to the NALP. If you don't have enough established bushes or trees in the backyard for a noise barrier (and don't want to spend on plants you can't take with you when you move) create a temporary option with a few evergreens, Japanese maples, or cypress in containers. Don't place on the grass where weight could damage your lawn – instead place on a patio, deck or along a walkway.
Go High Impact – Low Maintenance
Buyers may love your look but worry they don't have enough of a green thumb to keep it up.
Emphasize a low-maintenance landscape with hardscaping features like walkways, retaining walls and patios. Forget about a big outdoor kitchen but opt instead for an outdoor fireplace. Fire pits topped a recent ASLA survey on the most popular outdoor design elements. We install a range of sizes and options for homeowners whether old Chicago brick or dry stacked stone.
Xeriscaping ("ZEH-ri-skeiping") is a combination of the Greek word "xeros" (dry) and the word "landscape."  We incorporate this approach in areas with limited irrigation options or the desire for maintenance is minimal. Drought-friendly plants such as succulents, palms, and native ornamental grasses make an impact with limited watering.
Consider your buying demographic. If your realtor sees retirees and seniors as a target buyer – they may be moving precisely because they're tired of taking care of landscaping!
Bottom line? An investment in your landscape adds resale value to your home, not to mention lasting enjoyment while you're still there.